Pinterest management is a great freelance business for moms looking to work from home! Whether you have an eye for designing pins, research, writing, or analytics, there is a Pinterest manager job out there that you can do. So if you like hanging out on Pinterest in your free time, stick around to find out five things a Pinterest Manager does for clients.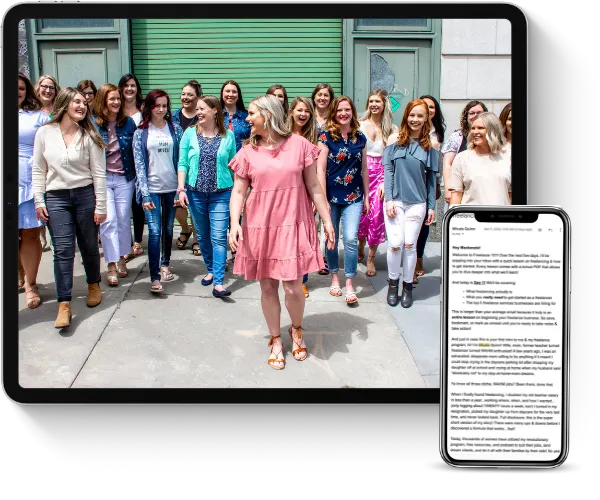 Learn how to earn $3K a month+ as a freelancer working less than 25 hours a week even if you think you have no experience.
This FREE crash course will teach you all about the freelance industry, so you can finally end the family vs. finances battle.
5 Tasks a Pinterest Manager Can Do
1. Pinterest account creation
Setting up a new Pinterest account for success is more than just simply creating an account. The initial process will include keyword research, board creation, Website links, and strategy. In addition, rich pins will need to be enabled for optimal search. These things will help get the account off on the right foot.
A Pinterest manager can also help businesses with Pinterest audits and clean-ups to keep accounts running more smoothly after set up. These audits may be necessary about once a month to accomplish the business goals and stay in step with the ever-changing algorithm.
2. Topic and keyword research
Since Pinterest is a search engine, you'll utilize SEO and keyword research to get more traffic. Understanding the client's ideal audience can help with researching keywords and topics that the business should target every month.
The Pinterest manager will use new trends and strategically integrate keywords within Pins to get more reach for the business. A valuable tool for keyword research is an old-fashioned spreadsheet that you can organize for the client to keep keywords easy to access and refer back to.
After researching these keywords, add them to current articles, pin descriptions and titles, the board and board description, and even the company's about section on their profile.
3. Content creation and scheduling
Pinterest is not just a search engine; it is a visual search engine. So a business might need help from a Pinterest manager to create scroll-stopping pins. A Pin that catches the attention of a scroller and entices them to click that Pin out of all the others that show up in the search. A tool like Canva can help to design pretty pins that will catch a user's attention.
After creating the Pin and a keyword-focused pin description, a Pinterest manager may use scheduling software to schedule the Pin. Scheduling software allows the user to schedule out pins to be published periodically and enables the manager to batch Pins ahead of time.
4. Engagement
Part of an effective Pinterest strategy for more traffic is engagement. No more posting and forgetting! Instead, the new plan requires staying active and engaged within the communities on Pinterest.
A Pinterest manager should also determine what group boards to join. Group boards are also known as collaborative boards and allow many different people to Pin within them. Group boards may need approval before joining.
A Pinterest manager will also check comments and repins to the company's profile and respond to any comments on the account.
5. Insights and analytics
After all the other things, one last part of a Pinterest manager's job is to check and report on the analytics. The analytics will tell you what Pins are working and what ones aren't. And will help to shift the strategy, keywords, topics, and content going forward to assist the business reach its specific goals.
What Does a Pinterest Manager Do?
A Pinterest manager helps a business to promote itself on Pinterest.
They will use Pinterest knowledge and market research mixed with these recurring tasks to build a strategy for the business. This strategy helps the business to reach marketing goals. Those goals could include traffic, promoting products or services, or sales.
Want to hear more about how to become a Pinterest manager, who hires them, and what you need to start? Click here to binge the Live Free Podcast!
Can't get enough? Learn how Chelsea Hall doubled her salary within one year of starting freelancing and niched into Pinterest management!