Graphic design is everywhere. It is in the apps on your phone, the websites you visit, the TV you watch, and even the product labels of the food you buy. It is everywhere!
Graphic design is part of the customer experience. It visually tells the brand's story. Behind that graphic design is a graphic designer who thoughtfully crafted that design to enhance the brand's visual campaign.
Graphic design can be done from your laptop and in the comfort of your living room, so it's no wonder it's common for moms in the freelancing space to pivot their businesses into graphic design.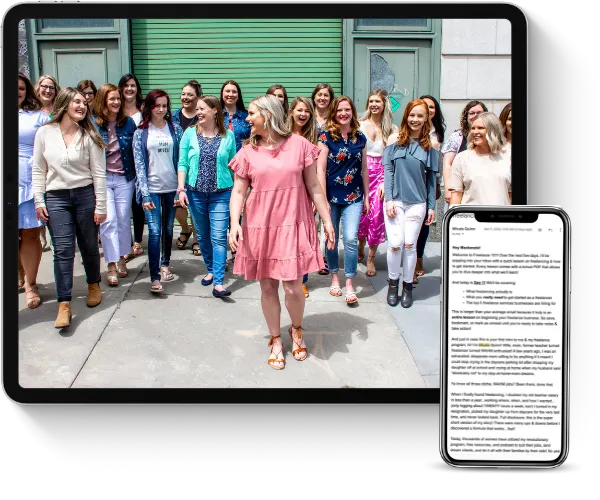 Learn how to earn $3K a month+ as a freelancer working less than 25 hours a week even if you think you have no experience.
This FREE crash course will teach you all about the freelance industry, so you can finally end the family vs. finances battle.
Whether you are thinking about pivoting your business, starting in graphic design, or just wanting more information about graphic design, read on to learn five things a graphic designer does.
5 Tasks A Graphic Designer Does
1. Specialize in visual communication
One thing a Graphic designer does is create visual concepts to communicate information to consumers. A graphic designer will use various design elements like shapes, colors, typography, images, photos, and videos to create a design that will convey a message or information to the audience.
Graphic designers can work in-house or as freelancers since most of the work can be done through programs on your laptop.
A freelance graphic designer will work with the client to understand goals, messaging, and intent. Graphic designers often must collaborate with writers, marketing professionals, or other graphic designers to complete a project.
2. Create designs using illustration, photo editing, and layout software
Graphic design requires a unique range of products and skills to achieve the specific look and functionality of every project they work on. A graphic designer may know artistic elements like color, line, shape, and other emphasis effects, principles of design, and composition. Or they may simply see how all these things come together and can visually put it together in their mind before it comes together on the page.
Whether a graphic designer has formal training or not, the knowledge of technology programs will help in the design process. A graphic designer may learn these programs from formal schooling, online training videos, or software program tutorials.
3. Strengthen the brand recognition of a company
Another task a graphic designer does is to help create logos, typography, messaging, layout, and even functionality to help build a visual representation of the brand. Utilizing these things throughout every piece of promotional material that a company creates helps customers start to recognize the brand.
Creating a brand style guide establishes guidelines for all things that are customer-facing and creates consistency. A brand style guide can encompass a lot of different elements.
logo and logo variations
typography
font sizes
colors
graphics
icons, images, avatars
social media graphics
infographics
branded links and QR codes
4. Review and make revisions based on feedback
A graphic designer will work with a client and listen to the specific details a client wants in the design, considering collaborations with other designers and departments. Part of a graphic designer's job is to interpret client design needs, incorporate all necessary information, and make it all cohesive.
A graphic designer will produce drafts for client review and make revisions based on client feedback. Being able to take criticism on your creations is also part of what a graphic designer does. There can be feedback and changes that the designer may disagree with.
5. Create user-friendly experiences
Graphic design must be visually appealing and functional. UI and UX are part of the design world. UI is short for user interface and is the visual element in user interactions. UX is the user experience of a product.
UX design encompasses a product's structure or interfaces with a customer with a brand. Things like a website or app. This is the ease of use of a website to create an experience that is functional for the customer. For example, a UX designer will account for user interviews, avatars, journey flows to create a user-friendly experience.
UI design is concerned with visual elements like graphic design but focuses more on the elements that users interact with. It focuses more on the design of a website or app. It can include buttons, color schemes, input fields, animations, and drop-down menus.
Ready to specialize your freelance business in graphic design? The Live Free Academy program gives you actionable steps to help you build your freelance business today!