Are you new to the world of freelancing? Trying to figure out a solution to the age-old question: how can I stay home with my kids and not sacrifice an income for my family?
Enter freelancing as a virtual assistant!
As a freelancer, there are endless options of services you can offer to clients. Virtual Assistant services are among the most popular. So, how does a virtual assistant work, you ask?
A virtual assistant works like an administrator of the business, handling recurring tasks that occur every week or month. A business owner will hire a VA to execute them. This allows the business owner to focus on other areas of their business.
Think of a VA as a "jack-of-all-trades." As a virtual assistant, you'll wear many hats, which means you will gain valuable experience!
So, what tasks exactly does a virtual assistant do? Read on to learn more about five virtual assistant tasks and responsibilities.
5 Virtual Assistant Tasks and Responsibilities
Calendar management
Inbox management
Social media management
Content research and creation
Client relationship management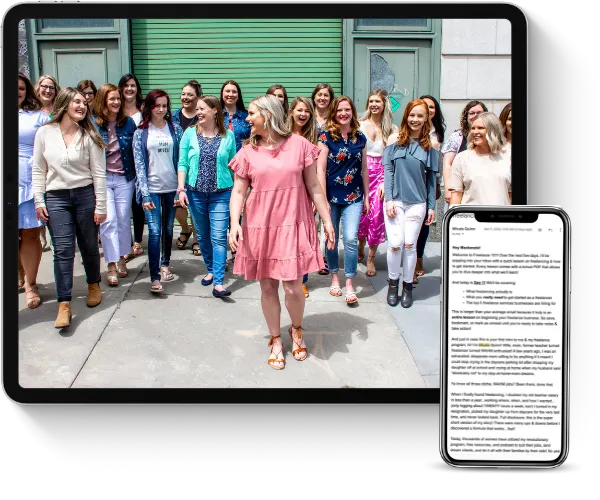 Learn how to earn $3K a month+ as a freelancer working less than 25 hours a week even if you think you have no experience.
This FREE crash course will teach you all about the freelance industry, so you can finally end the family vs. finances battle.
Calendar Management
A virtual assistant handles appointments by obtaining confirmations, rescheduling, sending reminders, and providing schedule updates for the business owner.
Making sure you follow all the who, what, when, and where rules for meetings and appointments can save a business owner time managing their calendar. In addition, if they are not already using an electronic calendar system, the VA may need to implement one. This allows for easy access on the VA's side for scheduling and communicating about important meetings for the client.
As a VA, you may receive a list of appointments to confirm every day, week, or month which you'll approve—keeping a list of respondents that have not replied so that the owner can follow up with them.
Inbox Management
There's something to be said for a tidy inbox. As more and more messages and emails flood a business owner's inbox, the more the need for a VA to keep it organized.
A VA can implement an organizational system so that emails don't pile up and the owner doesn't get behind on responding. For example, deleting spam emails, screening for sales opportunities, or leaving certain emails for the owner to respond to.
Social Media Management
Social media is essential as they are often the first impression prospective customers have when encountering a business. However, it takes a lot of time to create and schedule posts on social media. Not to mention responding to comments, feedback, and questions.
A VA can help with creating posts and scheduling them on social media using scheduling software. A good VA can even write captions and respond to comments in the business owner's tone and voice!
Content Research and Creation
In addition to creating content and responding to it on social media, you first have to research content topics the audience will be interested in. That takes a lot of time, including topic research, keyword research, and content development.
A business owner can outsource these tasks to a VA and save a lot of time in the research and development stage of content creation. And these tasks aren't limited to just social media. They can include newsletters, website content, blog content, case studies, or anything else that is client-facing.
Accounting
Even without an accounting degree, a virtual assistant can perform basic accounting tasks for a business. That includes maintaining the books, tracking expenses, creating and sending invoices, monitoring invoice payments, and chasing payments.
These tasks can take up a lot of time for a business owner and can be valuable for them to hand off to a VA.
Other Virtual Assistant Tasks and Responsibilities
Among these tasks listed above, a virtual assistant can do countless other tasks and responsibilities for a business owner too!
A few of those could include…
Solving technology issues
Managing customer orders
Organizing google drives
Data entry
Transcription
Creating PowerPoint slides
And so much more. The options are truly endless!
Starting your freelance business as a virtual assistant is so great because you can try all these different tasks and learn what you like doing (and what you don't).
Learning this helps determine how you want to transform and grow your freelance business. For example, you can niche down and become an expert on a specific service like social media management or keep it general with a virtual assistant.
Learn to do virtual assistant tasks and responsibilities
Have you heard enough about starting a freelance business and are ready to become a virtual assistant today?
Check out the Live Free Academy program! It's filled with actionable steps to help you build a profitable freelance business by doing these five virtual assistant tasks and responsibilities.