Social media management is taking off like wildfire. Across the board, companies see a return on investment in hiring a social media manager.
If you are new to freelancing, you may have started as a virtual assistant, tried some other tasks, and realized you like social media.
If you are wondering what a social media manager (SMM) does or thinking about offering SMM services, then keep reading! We are discussing the social media manager job description with 5 tasks they do for clients.
5 Tasks a Social Media Manager Does
1. Identify a target audience
When you market to everyone, you market to no one. I wholeheartedly believe in this saying. However, as a social media manager selling a client's services or products, you need to get specific about who your client wants to attract.
One task a social media manager does is determine an ideal customer. It is key to marketing any business and getting new customers or clients. The Live Free Academy Training has a section dedicated to building a thriving client strategy because this step is vital to any business!
You'll start by answering four questions.
Who is your ideal client?
What is their pain point?
How can you solve it?
Where can you connect with them?
After answering those, we use that information to create an avatar to help you create and develop the brand. When working as an SMM, you'll need to identify this crucial step for any brand or business!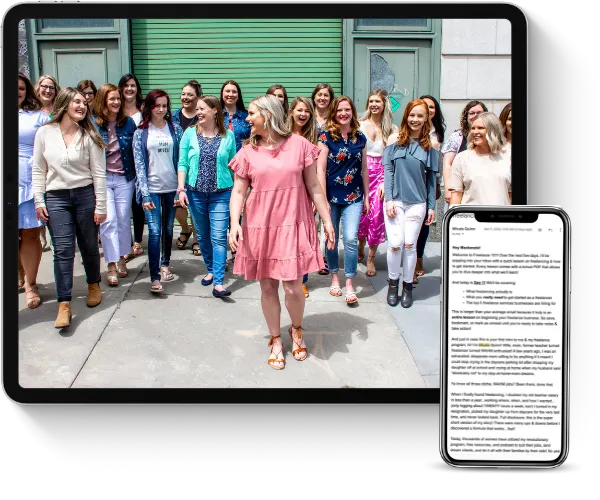 Learn how to earn $3K a month+ as a freelancer working less than 25 hours a week even if you think you have no experience.
This FREE crash course will teach you all about the freelance industry, so you can finally end the family vs. finances battle.
2. Create a social media strategy
Another task a social media manager can be responsible for is creating a social media strategy by setting clear and measurable objectives. If you want to know ROI (return on investment) then set clear goals related to common challenges a business is experiencing.
Such as, they want to increase website visitors, create more brand awareness, increase repeat customer sales, amp up social media presence, or increase overall sales.
Setting goals and objectives is not always an easy feat. You must set measurable goals and objectives, or you will NOT be able to measure the results.
Next, the SMM will set a strategy and focus emphasis based on what goals the company wants to achieve.
Some of the common challenges brands have (listed above) will help to focus the strategy accordingly. So, you will create a content strategy if you want to increase brand awareness or social media presence. Other areas of social media that could need strategy and implementation to meet goals are promotion, engagement, and conversion.
Remember that as new trends emerge, the strategy will have to shift to meet those trends to stay relevant to the brand's ideal audience.
3. Create, schedule, and post content
There's more to social media content than just creating and posting. As a social media manager, you must determine what information will work best for the platform and audience.
It could be in the form of an infographic, beautiful photo, entertaining video, hilarious but relatable gif, or blog. The message is equally important as the delivery of the message. Different audiences will respond differently on each specific platform, so you'll need to adapt the content for each audience on each platform.
Creating content and scheduling it in batches can be a huge time saver for a social media manager. You can ideally create and schedule it days, weeks, or even months ahead of time. With the technology available today, you can schedule content to post at a specific time so that it posts when the audience is most engaged.
4. Engaging with audiences
Don't forget about engagement! Since the primary goal of social media is to create a sense of community, an SMM will help to engage the audience on each platform.
That could mean:
responding to comments
emails
instant messages
reacting to other brands' posts
outreach to guest posts
asking questions
monitoring comments
When someone asks a question, the SMM needs to determine how to respond based on whether it is coming from a warm or cold lead. That will help determine the response the social media manager should give.
For example, a warm lead would be responded to by asking a question to keep them engaged, then moving the conversation to a private message to further the conversation. Then ideally, the SMM would lead them to some type of signup to continue through the sales funnel.
5. Monitor performance
A social media manager measures and reports the ROI of a brand. They establish KPIs. These are vital targets you should track to measure success.
Examples of KPIs include:
Impressions
Follower count
Audience growth rate
Reach
Likes
Comments
Shares
Click-through rate (CTR)
Bounce rate
Cost per click (CPC)
Cost per thousand impressions (CPM)
Testimonials
Customer satisfaction score
Net promoter score
The SMM will use the appropriate metric to measure the success of the social media campaign aligned with the goal the company wishes to achieve. Then, monitor the success and report on the effectiveness, or make suggestions on how to improve.
Ready to specialize your freelance business in social media management? When you become a member of the Live Free Academy, you will gain access to additional training on how to specialize and scale your freelance business! Including the Masters of Business program, where you'll learn all about how to be social media manager!