Podcasts have taken off in the past few years. So for the world of freelancing, that means that podcast management has taken off too! Every great podcast will need someone to manage it behind the scenes.
For podcasters, so many things behind the scenes need to happen before you can jump in and record the podcast. Enter the podcast manager!
5 Tasks a Podcast Manager Does
What tasks does a podcast manager do? A podcast manager is tasked to help with keyword research, audio editing, guest outreach, and more! Read on if you're interested in podcasting because today we cover the job description of a podcast manager in 5 tasks a podcast manager does!
Topic and Keyword Research
Copywriting
Guest Management
Editing and Audiographics
Production and Uploading
1. Topic and Keyword Research
To help find your podcast, you'll need to include keywords relevant to the planned topic. Keyword research is researching the words or phrasing of words that are ranked in search engines and online platforms. Spending time on topics and keyword research is essential. It can help you determine what questions you can answer for your audience or information about them.
To do this, brainstorm some ideas in a list of topics that might interest your listener. Then, using a keyword research tool like Ubersuggest, find the research volume and difficulty. You want to look for high search volume, which tells you that people are searching for these terms, and low search difficulty, so it will be easier to rank for. Next, look at your competition for the keywords you've found to see what kind of content ranks in the top spots for that phrase.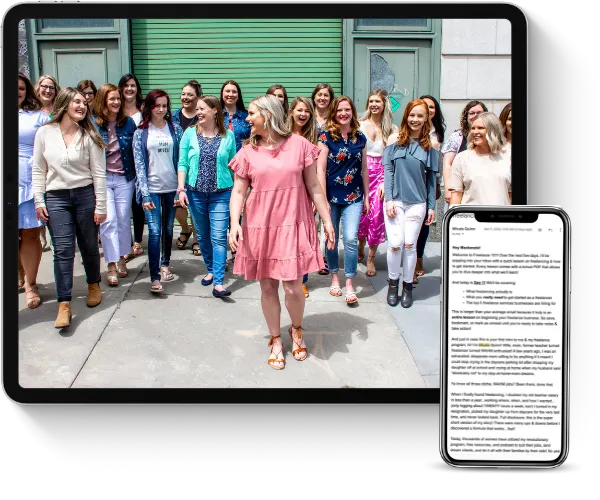 Learn how to earn $3K a month+ as a freelancer working less than 25 hours a week even if you think you have no experience.
This FREE crash course will teach you all about the freelance industry, so you can finally end the family vs. finances battle.
2. Copywriting
When you think about the job description of a podcast manager, you probably don't associate it with copywriting, but someone needs to create the outline and notes for the show. Most podcasts have an intro to the specific episode that explains it to the audience, then the meat of the show, the closing, and all the show notes. Creating an outline and notes for each episode helps to keep the show on topic. It will help you focus on keywords, too. The podcast manager will add them to the copy in the Podcast episode title, page title, chapter headings, description, show notes, and any social media promos.
3. Guest Management
Most podcasters invite guests to come on their show and go on other podcast shows. The podcast manager will help the podcaster research shows to reach out for guest opportunities, pitch to a guest podcaster, and organize interview times and other details.
4. Editing and Audiographics
Have you seen those fantastic social media promos for podcast episodes? Usually, it's an edited audio portion of the podcast with matching graphics. That is an audio graphic! It is a creative way of sharing the show on social media.
Editing the show and creating audio graphics takes practice, time, and skill!
5. Production and Uploading
Not everyone can see the show from start to finish, but the job of the podcast manager is to help with this. Sometimes people get stuck in the small details, so having the vision to oversee the process helps create a finished product. A podcast manager helps to ensure all the pieces come together without any hiccups.
One of the last things on the podcast manager's list is to upload the podcast episode to the host platform. It allows the podcast to be available for listeners. And can include uploading the audio files, adding the description, and show-art.
Podcast management is getting more popular as podcasts become more popular. As more and more people start podcasts, the need for podcast managers is growing!
Want to learn more about becoming a podcast manager? Listen in on the Live Free Podcast as this mom successfully niched her business to offer podcast management!
Are you interested in becoming a podcast manager and niching your freelance business into podcast management? When you purchase the Live Free Academy course, you get access to specialized programs like the Masters of Business course, which teaches podcast editing and other top services that businesses are searching for right now!