Check out these five ladies who are rockin' it in their freelancing businesses. Find out what their businesses are, what struggles they had, and how they found success. 
Stories are POWERFUL, which is why I love to share stories often. Today is no exception!
I've been thinking a lot about the ladies in my group. I feel like a mother hen watching over all of her chicks! Day in and day out I watch them face challenges, share successes, give encouragement, and grow beyond what they thought possible.
But I knew it was possible. I believe in each and every one of them.
Just like I believe in you.
If you want something more than what you've currently got, I want to help you achieve it with a freelancing business all your own. Where you're the boss. Where you set your hours. Where you set your rates. Where you set your goals.
Sound good?
Let's see how these five ladies did it! 
Meet Alexa Burns
Freelancing Business: Pinterest Management & Strategy
Who She Is:
Alexa is the mom of three amazing kids. In addition to her freelancing business, she's also a cosmetologist and a licensed yoga instructor. You may be wondering, with two other jobs already, why did she even want to get into freelancing? 
Well, she wanted something that was flexible. Something she could do with her kids around. And something she had more control over. Freelancing fit the bill and has been amazing for her and her family!
How She Struggled: 
Initially, Alexa was having success making connections and starting conversations with potential clients—yay! But eventually they'd ask to see examples of her work. She'd explain that she was just starting out … and then the conversation would die. She felt like there was this huge roadblock in the way of getting her business going. And it was incredibly frustrating! But she didn't let it stop her!
How She Succeeded: 
First, she brought her struggle to my course Facebook group! A fellow course member came to her rescue and let her take over managing her Pinterest account for a month. Boy did Alexa deliver! She got great results, which earned her a shout-out in another Facebook group. She finally had proof of her skills and that was all she needed to start landing clients. She got two off that first shout-out alone!
Her biggest tips are 1) if you're a beginner, do unpaid work in exchange for testimonials, and 2) treat that unpaid work like paid work. Go above and beyond! The work examples, testimonials, and referrals you get will make that unpaid work more than worth it.
Where She's Headed:  
She's grown her Pinterest management business substantially and is thrilled with the success she's having. After only a year, her business has grown so much that she's now working with other virtual assistants as subcontractors!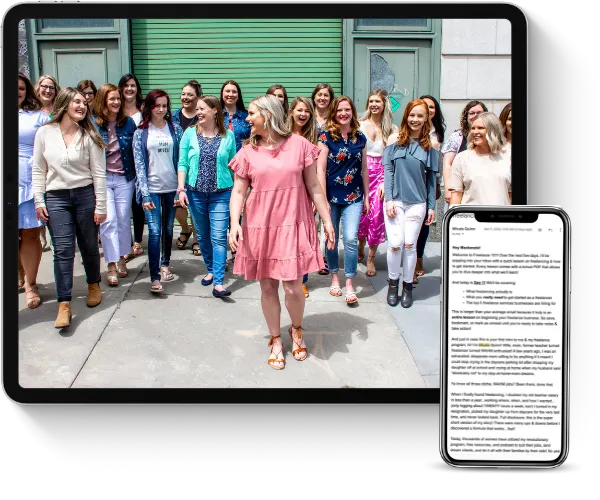 Learn how to earn $3K a month+ as a freelancer working less than 25 hours a week even if you think you have no experience.
This FREE crash course will teach you all about the freelance industry, so you can finally end the family vs. finances battle.
Listen to her full story:
Podcast Episode 46: Alexa Burns
Meet Jessica Skelton
Freelancing Business: General Virtual Assistant > Website Designer
Who She Is:
Jessica is a Missouri mom of one son and one fur baby. Previously she worked as a supervisor with a healthcare organization that provided residential support for disabled adults. It was a job that required her to be on-call 24/7 and it simply wasn't sustainable with the family life she wanted.
How She Struggled: 
Jessica admits to being overwhelmed in the beginning, which is SO relatable! We've all been there honey… Plus she had a bad case of shiny object syndrome. She wanted to do everything, all at once, and she feared she was heading for burnout.
How She Succeeded: 
She came to one of my course coaching calls and I gave her some much needed tough love to get her back on track. She realized she had been working harder not smarter and needed to reverse that—stat! 
After maxing out on the hours she could work each week on her freelancing business, she still wasn't reaching her income goals, so we talked through ways for her to narrow her services and scale her business by being a specialist. 
Jessica thought about the different types of work she did and decided that the work she enjoyed the most was website design—she had her focus! By the way, she doesn't have a degree in web design or coding. She had an interest and learned how to do the work. Now clients are happy to hire her for it!
Where She's Headed: 
After doing a wide variety of tasks as a general virtual assistant, Jessica is repositioning her business to only offer website design. By making this change, she has reached and exceeded her income goal without putting in more hours than she wanted to!
Listen to her full story: Podcast Episode 63: Jessica Skelton
Meet Emilee Vales
Freelancing Business: Social Media Management > Pinterest Management
Who She Is:
Emilee is the youngest of eight kids, mother of one (soon to be two), and a former teacher. In 2017, she and her husband welcomed their first baby—a girl! 
Holding that squishy baby in her arms, breathing in her new-baby smell, Emilee knew she couldn't go back to teaching—a job that often left her feeling drained, rundown, and unappreciated and the end of the day.
How She Struggled: 
When she was starting out, Emilee didn't know how to network. But it was more than that. She didn't like putting herself out there! She hardly used social media herself and she wasn't confident about using it to find clients or market her freelancing business. 
How She Succeeded: 
Here's what Emilee did that worked: 1) Once she decided to buy my course she went all in. She worked through the course materials quickly, absorbing everything as she went. She was committed to earning back the money that she had invested to buy my course! 
2) She set specific performance, project, and income goals and held herself to them. She got over her fear of networking—crushin' those fears!—and made the goal early on to network for an hour a day. She also busted her buns to get her portfolio done early. Both of these accomplishments were crucial for her to land clients quickly, and she did!
Where She's Headed: 
Emilee started her freelancing business doing general virtual assistant work and social media management. She's now working to pivot her business to focus on Pinterest management. 
She has exceeded her personal income goals and says that she has gained SO much confidence in the process. She loves the freedom that comes with freelancing, and her husband feels a sense of relief now that her business is doing so well!
Listen to her full story: Podcast Episode 26: Emilee Vales
Meet Julie Calcote
Freelancing Business: General Virtual Assistant > Online Business Manager
Who She Is:
Julie lives in Alaska, is a mom of two, and loves watermelon and being outdoors. She studied criminal justice in college and worked for several years as a paralegal. She's always had an entrepreneurial spirit, and when she found my course she knew this was the way to achieve that dream!
How She Struggled: 
Julie wanted to learn everything! She fell into the trap of procrasti-learning: spending her time learning as much as possible and putting off the things she needed to do to build her freelancing business. Thankfully she came to the coaching calls and I was able to reign her in and redirect her! 
How She Succeeded: 
After our chat, Julie realized she needed to get a client and earn back the money she had spent on my course first. Then she could learn on the job while doing client work—and that's exactly what she did!
Once Julie landed her first client, she worked really hard to WOW her. Julie is an amazing example of someone who goes above and beyond for her clients and over delivers. This is exactly how she went from having one client to many all because of client referrals. Julie's clients absolutely love her!
And Julie still loves to learn! She will go the extra mile to research or practice something on her own time if she's feeling weak in an area. But this is totally different than procrasti-learning because now she's learning in order to do actual client work! And her rate increases as she increases her skillset!
Where She's Headed: 
After starting out as a general virtual assistant, Julie has added SO many skills to her arsenal that she's ready to pivot her business. She's repositioning herself as an online business manager (OBM) and ready to grow her freelancing business even more! 
Listen to her full story:  Podcast Episode 41: Julie Calcote
Meet Sami Raby
Freelancing Business: Subcontracting Content Creator > Online Business Manager
Who She Is:
Sami is a mom to two girls and was part of the original 50 ladies who joined my course—awww! She studied psychology in college and worked for a time as a counselor in a psych hospital. But that job didn't actually pay her enough! So she ended up doing manual labor on an assembly line to pay the bills. Then she found me and considered freelancing! 
How She Struggled:
Sami struggled big time with imposter syndrome, which you know is legit since it has its own Wikipedia page! She felt like she wasn't good enough. She felt like she shouldn't bother trying, so she didn't. 
I'm here to tell you, everyone—I'm sayin' EVERYONE—suffers from imposter syndrome at times in their freelancing journey. Even me! It happens every time we put ourselves out there and reach for something new.
Well, Sami reached a point where she gave in to those feelings and quit. She gave up on freelancing and went back to work on the assembly line. Time passed and she wasn't happy. She saw other ladies in the group posting about their successes and she was annoyed because it hadn't happened for her. 
Then, when she was pregnant with her second daughter, she had a pregnancy scare at work and her boss said she had to keep working. Can you believe it?! That was the last straw for her. She recommitted herself to freelancing (and her baby was fine—phew!).
How She Succeeded:
Sami had to work extra hard to master her mindset. The first step was admitting that she had a problem. Any time that voice in her head said, "Sami, you can't do this. You're not good enough." she had to silence it! 
She reached out to the course Facebook group and did work in exchange for testimonials. The feedback she got was great and her confidence grew! She kept putting herself out there. And one night, when she was up late with her new baby, she saw a job opportunity posted in one of the big Facebook groups, and she responded. She thought, "If they don't like what I'm offering, oh well." But the client did like what Sami sent her and they've worked together ever since!
Where She's Headed:
Now Sami can work 12-15 hours a week and make as much as she did as a hospital counselor working 40 hours a week! She started out doing subcontracting work as a content creator, and now she's establishing herself as a partner with her client and serving as an online business manager (OBM). Sami is so glad she gave freelancing another chance!
Listen to her full story:  Podcast Episode 52: Sami Raby
What Does This Mean for You?
Did you notice how every single one of these ladies struggled in some way? 
Everyone struggles. You can count on it! But those struggles also represent an opportunity to grow. Because each of these ladies also overcame their struggles and found success.
You probably also noticed that many of them have changed their services along the way. This is totally normal! I always tell ladies in my course that they should start by offering the services they already know how to do.
With time, you will get new experiences! You will gain new skills! You will figure out what work you dread doing—ugh!—versus the work you don't mind staying up late to tackle—yay! 
This is when the magic really happens and you can narrow your services, become a specialist and—boom!—you're on to even bigger dreams than you first imagined! 
Because I'm tellin' you, it's not unheard of for ladies in my course group to double and even triple their rates within a year of starting their freelancing business.
Let's let that sink in…double or triple their starting rate…
Do you know of any corporate job where that happens?!?
You will have to put in the time and the work. You will have to hone your skills. You will have to master your mindset (I'm looking at you imposter syndrome!). 
But, you CAN do it. 
I believe in you, just like I believe in these five ladies and all of the ladies who join me for this journey! And I'm here on this blog, on my podcast, in my Facebook groups, and in the weekly course coaching calls to support YOU.
Sign up for my Ultimate Become a Work at Home Mom Starter Kit! It's packed with free resources to help you get started TODAY! And let's see what YOU can accomplish with your own freelancing business!
And if you're ready for the fast track, sign up for my course, Overwhelmed to Overbooked! It has everything you need to be successful with your own freelancing business: training videos, templates, the course only Facebook group, weekly group coaching calls with yours truly, monthly expert interviews, and more!