Reading business books is a great, often free way to increase your confidence and up-level your game as a work-at-home mom. 
I'm all about life-long learning, and books are a great way to do that. Full disclosure: I was a high school English teacher…so I may be a bit biased. ?
Whether you're just beginning to consider freelancing, you're in the early phase of your business, or you've been working a while, these business books will uplevel your skills as a work-at-home mom.
When I started out freelancing as a virtual assistant, I didn't know anything about business. Nothing. Zero. Nada. I went from being a high school English teacher—something I had a degree for—to being a work-at-home mom and owning my own business with zero business experience. I'll admit it was bumpy at first because I was making my own path and didn't have anyone to guide me. 
I learned a lot on the job and from the online business owners I worked with. But I also took learning into my own hands and started reading and listening to business books, as well as business-related podcasts (we'll leave those suggestions for another post).
But I don't have time to read!
If you're here, you're likely a mom, and I know that means time is tight for you—like really tight. You probably don't even get to pee in privacy. The good news is there's no due date for how quickly you need to read a book! No one is assigning it to you…not even me, I swear! As a work-at-home mom you dictate how you want to spend your days and what the best use of your time is.
So read three pages a day, or listen to five minutes of an audiobook a day and that's fine. Whatever you can do is better than nothing! And reading even a couple pages right before bed is way better for calming your mind and getting you ready to fall asleep than staring at Instagram (blue light disrupting your sleep is a real thing, yo).
And if you're a work-at-home mom in training, meaning you're still working your 9 to 5 while building your business on the side, then you're likely stuck in the car for your commute. If this is you, then get friendly with some audiobooks! You'll be amazed at how much you can get through in a week just listening during your commute.
Plus, reading these books will give you confidence, make you more business savvy, and will uplevel what you bring to the table when you work with clients.
Best part, this type of learning can be totally free!!! Get on your library's website, put one of these books on hold and—BAM!—free learning going on. And libraries have audiobooks, too!
But I get it. I know it's crazy hard to find time in your already packed day.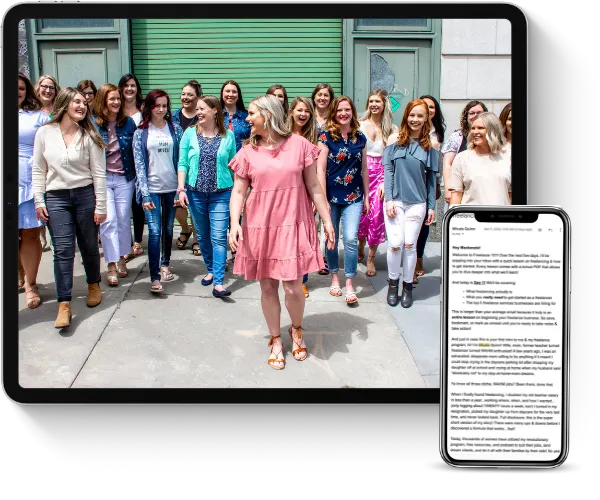 Learn how to earn $3K a month+ as a freelancer working less than 25 hours a week even if you think you have no experience.
This FREE crash course will teach you all about the freelance industry, so you can finally end the family vs. finances battle.
If you're struggling with time management and can't seem to find the time to work, and read, and do #allthethings, check out my guide
How to Build Your Business on the Side as a Busy Mom
, it's one of my free resources. Part three in this guide covers mapping out your time and being intentional with how you plan your day—being intentional with your time is an absolute
must
for every work-at-home mom.
Ok, let's get to the book list already!
5 Business Books every Work-at-Home Mom Should Read
This is my very top pick for business book recommendations! If you want your business to be successful you have to connect with your audience and clients. The best way for humans to connect is through stories. This book has been SO influential to me as I've built my business and brand. 
I wasn't a goal setting person…before I started my own business. Now I've learned the value in dreaming big and making goals. The six habits he covers will not only benefit your business but also your life in general. This book has been SO helpful with getting my mindset where it needed to be in order to run and balance a successful business and juggle everyday life as a work-at-home mom.
This book has been absolute gold for me—literally money in the bank. I hate budgeting. Me and budgets do NOT get along. But as a work-at-home mom bringing in some bacon, I realized I needed to get my financials in order. The method of Profit First gives you a super clear plan and way to allocate your business income to cover all of the things it should: taxes, expenses, profit, and paying yourself! I highly recommend the book, but for a quick and dirty, here's a podcast I did about Profit First.
Yes, this is another book about storytelling and business. What can I say, it's that important! This book is jam-packed with inspirational stories and it will get you thinking about your own story and how you want to tell it. And your clients will be so grateful if you take the lessons in this book and apply it to your work.
Seth Godi is a marketing god (he's even in the Marketing Hall of Fame—no joke!). This book teaches the importance of finding your tribe. There's a saying, "If you're marketing to everyone, you're marketing to no one." You could have several thousand followers, but if they're not the right followers, it does you no good. This book is great for helping you focus your business and reach the right audience.
Ok, those are my top picks! Check out these books and become the super rad, rockin' it, work-at-home mom you know you are! Happy reading, mama!