Are you searching for legitimate freelance jobs for beginners? Remote jobs you can do from home without experience. Have you been searching but finding nothing that sounds real?
Its always…
Start a home daycare
Sell MLM products
Work at a call center
Those options never excited me. They are not flexible, not something you can do from home, and not something you can do with kids around!
So, what jobs are available for moms who want the flexibility of working from home with their kids at home, and that doesn't require a ton of training?
Virtual assistance is one of the best freelance jobs for beginners (no experience needed)!
Today, we'll discuss jobs you can do as a beginner with no experience. Jobs that are NOT selling MLM products, working in a call center, transcription, or starting a home daycare.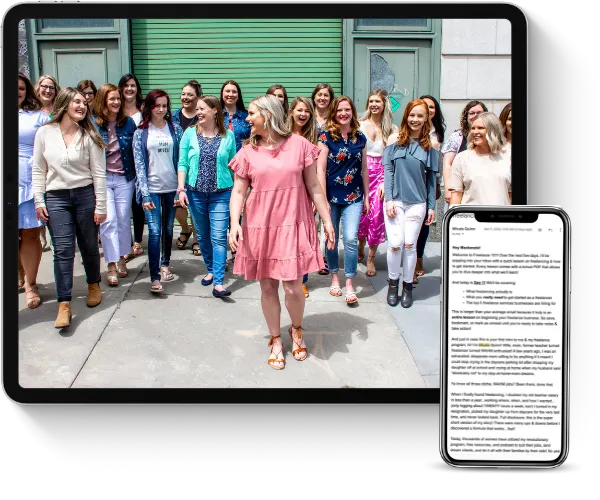 Learn how to earn $3K a month+ as a freelancer working less than 25 hours a week even if you think you have no experience.
This FREE crash course will teach you all about the freelance industry, so you can finally end the family vs. finances battle.
4 Freelance Jobs For Beginners
1. Email inbox management
No matter the niche this is a service that any business owner wants and needs help with!
Businesses can get hundreds of emails per day, and it can be impossible for a business owner juggling other aspects of their business to keep up with. But they want to keep the emails organized so they can make sure each one is answered quickly.
To provide this service, you could be answering emails, organizing them, and tracking metrics like response time and the number of emails answered a day.
2. Creating graphics
Creating graphics is a huge help to business owners because creating graphics can take a lot of time to do beautifully.
If you have an eye for design, you can help a business owner design graphics for any social media app like Twitter, Pinterest, and Instagram. You can even help with creating or finding images for a blog or for a video on YouTube from a stock image site. Or creating Pins for Pinterest.
Apps like Canva let you save brand colors and offer templates you can use for easy designing!
3. Writing
Writing takes a lot of time. I mean a lot. Most business owners do not have the time to write all the content that is needed for a business. Think about all the touchpoints in a sales funnel that needs writing.
From initial touchpoints like social media posts to website content, blog content, and newsletters to product descriptions. Copy usually needs to be in the voice of the brand, should feature the benefits of the product or service, and keep the focus on the customer.
That can be a lot to remember while writing a social media post, but if you have an act for writing this is a great option for a freelance job for a beginner.
4. Scheduling social media posts
You don't have to be a social media expert to help businesses with their social media accounts.
There are simple things like scheduling posts you can do simply without a background in social media. Other services that you can help with that do not require a ton of training are setting up a business page, optimizing a profile, brainstorming content, and community management.
FAQ
What does a virtual assistant do?
A virtual assistant does recurring tasks for a business that needs execution daily, weekly, or monthly.
Often, they are a "jill of all trades" and do many different tasks for a business owner.
The role of a virtual assistant usually looks different for each client. As a beginner freelancer (with no experience) you could help with some of the tasks we discussed above.
email inbox management
creating graphics
writing
social media scheduling
In this role, you are mostly assisting in executing tasks. There is little to no strategy involved. At least in the beginning, so don't let that scare you away! You can, however, evolve to provide those services down the road if you want. For now, it's the client's job to tell you what they need to be done and your job to get it done.
How do you get a freelance job with no experience?
First, read this easy guide to getting started. It outlines in 5 steps things you will need to do when starting as a beginner freelancer with no experience.
Among the first steps are setting goals, determining your strategy to find clients, and setting up your business legally.
How much can I make as a virtual assistant with no experience?
The amount you make is going to be consistent with a few factors like how much you work, your experience, and the value you bring to clients. However, clients will pay you good money to work for them as a virtual assistant or freelancer even with no experience. You taking time-sucking tasks off the plate of a business owner is providing value to them and why they will pay you even with little to no experience!
Then as you become more skilled and experienced, you can up your rates with each client you sign.
For reference, a virtual assistant with no experience usually charges around $20-35 an hour. See the table below for a quick guide on beginning, advanced and expert rates.
How do I determine what skills I have?
First, determine your skills. Yes, you do have skills. You have a unique set of skills from past experiences, jobs, or other positions that have given you skills that are transferable to working as a virtual assistant.
To figure out what skills you have, think about all the previous jobs you have had. What daily responsibilities do you currently have? What are you naturally good at?
Answering these questions is the first step in figuring out the skills you have that you can use to become a freelancer. Want more guidance? Download the Launch Fast Crash Course for a more detailed brainstorming activity!
How do I begin a freelance job with no experience?
To start in freelance jobs for beginners with no experience, you first want to realize that you can do this! The hardest part is starting and committing. If you are ready to start a life where you can work from home on your terms then check out the Live Free Academy program.
This 8-step course is going to teach you everything you need to know to set up your business. It's an interactive course that walks you through each step from brainstorming your skills and services to finding clients and even how to reach out to them. You'll get exclusive access to templates and workbooks to help you at each step along the way!