Have you been looking for a new job? Maybe you just found freelancing and are curious if a freelance career can work for you.
Or maybe you have been eyeing a life of freedom and flexibility that freelancing provides but are unsure whether you can make it work for you.
This post is inspired by an email that came to my inbox recently. A mom who has been eyeing The Live Free Academy course for months asked if freelance work is real and is an actual work-at-home solution.
Hesitant to enroll in the course after trying a few other things that didn't work, she was worried it would become another failed investment.
So, how do you know if a freelance career can work for you?
Spoiler alert: if you want to freelance, you CAN do this! If you want the flexibility, freedom, and financial stability that comes with a freelance career, you can make freelance work for you.
Now, let's jump into the 3 ways to know you can make freelance work for you. We will also talk about common excuses women use that hold them back from starting a freelance career.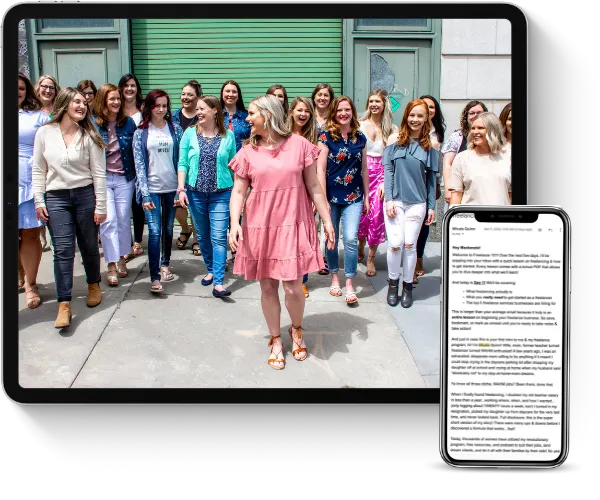 Learn how to earn $3K a month+ as a freelancer working less than 25 hours a week even if you think you have no experience.
This FREE crash course will teach you all about the freelance industry, so you can finally end the family vs. finances battle.
3 Resources to Know if You Can Do Freelance Work
Learn about freelance work and what it means to freelance.
Read success stories about how other's began a freelance career.
Do independent research to learn about the freelance economy.
1. Learn what it means to freelance
How can you know if you can make freelancing work without first knowing what is freelancing?
This free training provides a high-level overview of how to get started with freelance work.
The Freelance Crash Course is the perfect starting point. Sign up for the free training now to learn exactly what it means to freelance. When you signup you will get a free course about freelancing delivered to your inbox with options for how you want it.
Read it with the ebook, listen to the podcast, or watch with the video option. It's completely up to you!
2. Success stories
The next step, I suggest, is to read some of the Success Stories blog posts (or listen on The Live Free Podcast) of other women who have signed up for the program.
They will give you a behind-the-scenes look at what it took to get started with freelance work. These students have taken the course and share their stories about what it took to build their businesses.
In these posts, I ask these ladies what it took to get started, what challenges they faced, how they landed clients, and all the other hard questions that make up the "what ifs" and "buts" in the back of your mind.
If you want a success story with a similar background to yours, send me a quick email! Tell me your story, and I'll send you an episode that matches, as closely as possible, to your background!
3. Independent research
The third thing I recommend is doing a little independent research. Just Google, "freelance economy", and you will find tons of studies showing that freelancers are generally happier than traditional employees.
In a freelance career,
People make more money
Work fewer hours
Would not go back to a traditional job
Common Excuses Holding You Back From Freelance Work
Excuse 1: I've tried other online businesses before
So many women make a freelance career work for them after other failed online businesses.
Myself included! When I first began freelancing, I started and stopped 2 businesses that I had promoted to my friends and family. One was making cakes and cookies, the other making hair bows.
And I didn't want to come on Facebook a 3rd time, saying, "Hey, I started another business" because I was so worried about what other people would think.
But at this point in my journey, I could tell freelancing was so different than any other businesses I had tried.
Online businesses many women have tried:
MLMs
Selling on Etsy
Selling TPT resources
Trying an influencer business
Especially, when you look at the sales you need to make to match a freelance salary.
Example: Let's say you are trying to replace your $ 5,000-a-month salary. In the most generous commission rate, you could make in a business, at 50% commission, you could make $75 on a descent order of $150. 5,000 / 75 = 66.6. So you would need 66 sales per month to make a $5,000 monthly salary. That's a lot of selling! Doable, but a lot.
With freelance work, if you focus on retainer clients (a package that recurs monthly) you only need 3-5 clients likely to meet your income goals. This is because a monthly package can range from $500 to $2,000 per month per client.
With freelancing, you are not necessarily selling anything. It's networking with other businesses that are already looking for someone to do this work for them.
Excuse 2: I don't know where or how to start freelance work
In the email I received, the sender said, "I'm nervous because I don't know where to start or what I would like to do as a freelancer."
If the one thing holding you back is what do I do and how do I do it? If you just need someone to show you what to do and how to do it, that is exactly what I created The Live Free Academy program to do!
Inside the program, you will have a business course so you know exactly how to build your business from the ground up.
Including:
Legal
Taxes
Figuring out what services to offer
Finding ideal clients
Landing clients
Working with clients
Plus, you will have templates for every step of the process.
Skills training so that even if you are a beginner you can quickly get prepared to start freelance work.
A weekly coaching call so you get direct support from me.
An exclusive job leads board with businesses who are ready to hire.
And the best student community out there!
I don't want  The Live Free Academy to collect digital dust and be a wasted investment for you. I want to motivate you and encourage you to get in there and take action! There is so much in freelancing work that can help you turn your dreams of owning your own business, and having the freedom and flexibility into your reality as soon as possible.