Becoming a stay-at-home mom was the best thing for my family and me. Before I tried it I was an exhausted, desperate mom resenting the daycare teachers who got to be with my babies all day while I worked full-time for very little money as a teacher.
When I found freelancing and was able to replace my teaching income, it gave me the freedom to be the stay-at-home mom of my dreams (without making huge financial sacrifices!).
Now, let me be clear. Working from home wasn't always rainbows and butterflies. It is hard work, and it can still be challenging at times to balance that work/mom life.
I quickly realized I needed to find a balance between being at home with my family and working from home.
After talking to women in the LFA program, and a lot of trial and error I have gathered 3 tips I'm sharing today that are helping freelancing moms balance family and career all in one place.
1. Acknowledge The Changes You Will Have to Make.
First, acknowledge that you are starting a new adventure and are going to have changes to implement before you make a plan. Then, clarify why you are making this change.
This is one of the first steps in my Live Free Academy program. Because starting a business is hard. Anything new and different and out of your comfort zone is going to be hard. However, those women that have a solid understanding of why they are doing this are the women that push through the challenges and keep going to have that successful business. This is who you hear me talking about all the time.
If you are having trouble determining your why, listen to episode 29: The key to never giving up: knowing your why on The Live Free Podcas. I discuss 4 questions to help you determine your why, and discover your true motivation for starting your business that will help you push past the times that make you want to quit.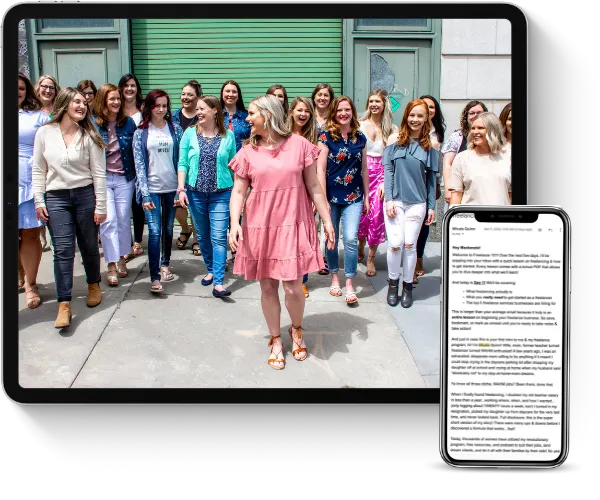 Learn how to earn $3K a month+ as a freelancer working less than 25 hours a week even if you think you have no experience.
This FREE crash course will teach you all about the freelance industry, so you can finally end the family vs. finances battle.
2. Determine When You Will Do Work.
Get super clear on what work you need to complete, and when you are going to get to it each day.
It's easy to see a task come in through email and want to immediately cross it off your to- do list. But trying to do your work with little kids running around or needing a snack every 5 minutes is a distraction that makes it almost impossible to get any work accomplished.
Look at your calendar and breakdown each day, hour by hour. Create a schedule to follow and add-up how many hours you have to work each week.
Make a list of all the things you need to get done and estimate how long they will take.
Decide when you are going to work and dedicate that time to completing your to-do list.
That may be during naptime/quiet-time or after everyone else goes to bed at night. If it's early morning hours, naptime hours, and a few hours after they go to bed, that adds up to about 6 hours that you can dedicate to working uninterrupted throughout your day.
Building a life you love with your babies by your side is the main goal of starting a business from home.
So, set realistic goals and give yourself the time you need to do each task for each day.
3. Create a Dedicated Work Space.
Removing distractions is arguably the most difficult step of working from home with your kiddos.
Do you have an extra bedroom, space in the basement, or a dedicated office you can use to set up a work station?
Even if it's not an office or room dedicated entirely to your work, limit distractions by setting up a workspace with only your work related to-do's and inspiration on it. That means no notes on your next vacation, stack of bills waiting to be paid, or appointment making to-do lists lying around.
Seeing these things can shift focus off your task at hand and inadvertently distract you from the task you are working on.
Remember it's not about how long you work, but how productive you are when you are working. Compare 7 hours of semi-productive, distracted work to the quality of work you are producing in half the time.
Work smarter, not harder.
You can learn more about shifting your mindset to eliminate the things that aren't needed in podcast episode 106: Breaking the "busy" mindset with Theresa Cifali.
Want more tips on how to work from home from other freelancing moms? Visit my Facebook group The Live Free Podcast Mastermind to connect with 15k+ members and myself to help you find some solutions for creating your work-life balance.