Brittany Bayley is a freelance copywriter who began her freelance business as a virtual assistant. She realized the potential in copywriting and niched her business into offering only email copywriting services.
Brittany has been so successful with this niche service she has grown her business to 6 figures! Today, she is sharing 3 easy copywriting tips that she uses to sound exactly like her clients.
Beginning in Copywriting
Feeling like nothing in the corporate world was speaking to her, Brittany found entrepreneurism intriguing. She had a background in journalism and psychology but was unsure how to incorporate those roles into one position. She also struggled with the corporate world routines and schedules she didn't feel were a good fit for her.
Brittany soon feel into a Facebook group that shared ways to stay home and make money. These things being shared in this group seemed more lucrative to her than couponing, surveys, or MLMs. It was services and skills that she was excited about, so she started doing some blogging and virtual assistant work to test the waters.
Around that time, she took a job from someone who approached her to do some writing for their emails. She quickly realized she loved it and had never felt that way before about any job! It snowballed from there, as she was recommended to another client after that first one.
After a year, Brittany hit her first financial goal to retire from her corporate job. She knew something was missing when she started seeing all these people at the next level making 6 figures and more with their copywriting business.
Around the same time, Russel Brunson's book Expert Secrets came out. This book helped her to realize niching down is not as limiting as she first thought. She could focus more on the email writing craft AND charge more premium prices doing it. This process took Brittany about 18 months to niche down in, but eventually she started making 6 figures.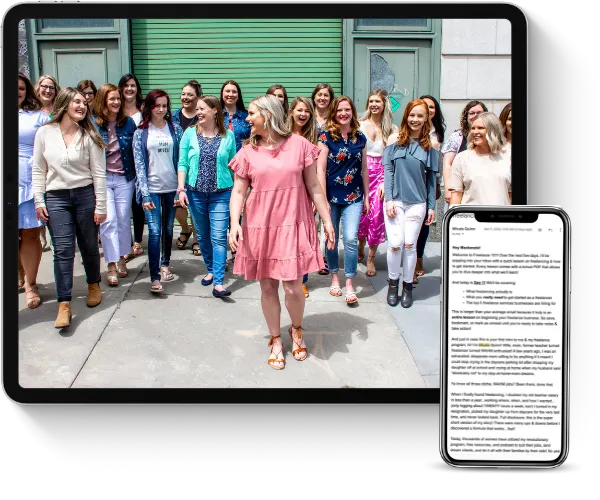 Learn how to earn $3K a month+ as a freelancer working less than 25 hours a week even if you think you have no experience.
This FREE crash course will teach you all about the freelance industry, so you can finally end the family vs. finances battle.
3 Easy Copywriting Tips To Sound Like Your Client
1. Research
As a copywriter, writing like your client is a huge part of crafting copy for clients. You want to sound like it is them writing it, not you. She suggests to research a client as much as possible before starting to write.
You can look at their website, YouTube videos, podcast episodes, and blogs to get a feel for their writing style and how they communicate.
During your research, you want to note:
What are the speech patterns?
Do they curse?
What expressions do they use?
Do they talk a lot using flowery language with a lot of adjectives, or are they more direct and to the point?
2. Create a style guide
Brittany says when she is researching a client and before writing their email copy, she will create a style guide for them.
Included in the style guide are these types of questions.
How do they communicate?
Do they talk more authoritatively or peer-to-peer?
How do they sign off on emails?
Is their family a big part of their brand or do they never mention their family in their business?
Soon you can start to identify patterns and fill out the style guide. Then double-check that your writing matches the style guide with how they would say it.
3. Cornerstone story bank
As a writer, you will want to create a cornerstone story bank or database you can pull from. Because business owners usually have a few stories they use a lot, ask your client to go through the story for you. So you can get perfect all the details, dates, and names.
Use a tool like Voxer, or any tool that allows them to open and speak into it. This is an easy copywriting tip to capture stories from your client in their voice that you can use in your copywriting. That way you are able to listen to it again and again.
What are the Differences Between General Copywriting and Email Copywriting?
When you look at direct response writing, there are all these different niches of copywriting–sales page copy, landing page, blogs, etc.
They all are long-form writing with stories. Whereas email copy is shorter and more to the point.
With email, you have to look at the campaign as a whole. The subject line and headline are both a large part of it, as they need detailed information that catches the reader's attention.
I hope these 3 easy copywriting tips and Brittany's story inspire you to start your freelance copywriting business too! If you are on the fence or want to start but are not sure what comes first, head to MicalaQuinn.com/academy to learn more about freelancing and the Live Free Academy Course!
The LFA course is an 8-step online program that guides you through starting your business and landing clients. Each module inside the Academy is jam-packed with video training, tools, and templates you need to launch a legitimate and profitable business that will retire you from your corporate 9-5 job!