Are your business goals set for 2021? Think you can handle it all on your own? As we move toward a new year, let's examine three major industry trends and shifts heading our way in 2021- and why the best money you spend all year could be hiring freelance help. 
First, let's discuss exactly why businesses should have freelancers on their radar for 2021….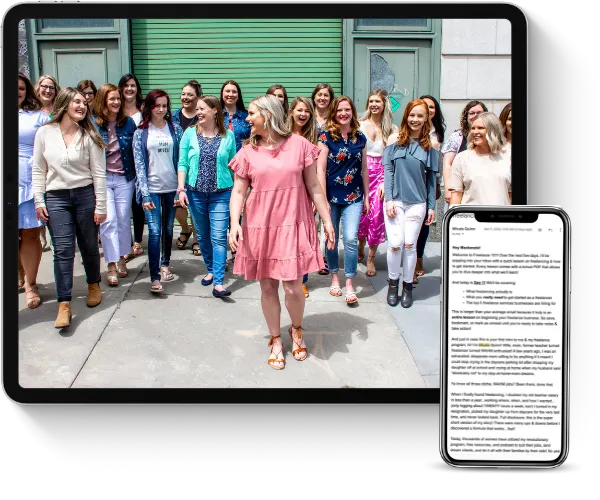 Learn how to earn $3K a month+ as a freelancer working less than 25 hours a week even if you think you have no experience.
This FREE crash course will teach you all about the freelance industry, so you can finally end the family vs. finances battle.
2020 was the year of the pivot and the year of the freelancer. Because of COVID-19 shutdowns and the need for remote work environments, hiring managers began to pull in talent no longer confined by driving distance.
47% of hiring managers stated
they are now more likely to hire independent professionals.  
92% of small businesses are run by a single owner plus their contractors and freelancers
.
That means 92% of small businesses do not use employees, they use freelancers. The freelance industry has been growing for years and there's only more growth to come. Looking ahead to 2021, smart business owners will seek out freelancers to help across all industries.
Why?
Hiring freelancers saves time. 
Most owners launch a business because they want to spend more time with family, have freedom + flexibility, and more money. But running and maintaining and GROWING a business takes a lot of time and energy. If you aren't careful, you can quickly fall into the trap of trying to do and be all the things in your own company. Marketing, sales, tech, Web design, accounting, VA, shipping – when you are trying to do everything, nothing will get the time and attention required. Outsourcing the aspects of your business that you do not love (or that you are not an expert in) will lead to more success and more money –  it allows more time to focus on high-level tasks that require your full attention.
You can hire the best talent.
Freelancers typically work when and where they want – which means you do not have to keep your search for the best and brightest experts to only local talent! You can cast a wide net and select a freelancer who completely understands your business niche, best suits your working style, and can drive your business goals forward.
Hiring freelancers saves money.
Businesses, especially smaller companies, hire freelancers because it is a lot less expensive than hiring a full-time employee. A full-time marketing employee on average may require around a $50K yearly salary. For the employee to receive $50,000, the employer ends up paying anywhere from $62,500 to $70,000 per year because of taxes and other basic benefits. Some small businesses don't have this in their budget to bring someone on full-time or they may not have enough work for a full-time person. So they hire a freelancer.
Even if that hired marketing freelancer charged $2k/month (which would put them firmly in the expert category) you as the business owner would be paying them around $24K/year, compared to a $62-70k range for a full-time employee. Not only is that a savings of around $40,000 per year, but again…you would be hiring the best of the best! So you are saving money upfront and most likely exceeding financial goals as the freelancing expert works their magic and frees you up to focus on your area of expertise. 
Now that you know exactly why you should hire freelancers, let's examine three incoming trends and shifts in major industries. Take note: if your biz is on this list…hiring a freelancer should be on your list. ASAP.
Three 2021 Industry Trends
Goodbye easy social ad spend.
The days of spending money on Facebook ads and sitting back and watching your sales roll in are (unfortunately!) long gone. Maybe 2 or 3 years ago this would cut it, but with ever-changing algorithms, shifting priorities, and a little thing called COVID…yesterday's advertising goals and budgets are not going to work in 2021. Smart business owners will begin to diversify their traffic sources (myself included).
Invest in a virtual assistant if…

you want to refocus your allocated ad budget on building affiliate relationships and JV partnerships. Virtual assistants can build lists of local influencers, affiliated industry partners, and handle all the communication and administrative management needed to build and manage profitable partnerships.

Invest in a social media manager if…

you are looking to organically grow your Instagram follower count. One feed post a week is

not

going to gain the traction and views you need to increase sales and followers on your social media accounts. If you want to build a loyal customer base, you need to be present and active on Instagram- consistently showing up in Reels, Stories, and the feed. You'll need a targeted hashtag strategy to get noticed by larger accounts and more ideal customers, and a mapped out monthly strategy to keep yourself on-task and accountable. But you don't have to do it alone! Social media managers can plan your month, streamline the original content you'll need to produce, and develop gorgeous graphics and captivating posts for you… as well as holding you accountable for showing your face and voice on the platforms!
Google algorithms are changing…again!
If content is king, location is queen. Local searches were up 100% in 2020, and Google is taking notice! Expect more local results and targeted location searches in 2021, along with precise search options to answer direct questions.
Invest in an SEO analyst/copywriter if…

you are a local business looking to set yourself apart from competitors. SEO experts can rewrite your Website, produce long-form blog copy that keeps your site at the top of local searches and retool the HTML code behind the scenes to guarantee local Google searches always see your business first.

Invest in a videographer if…

you are ready for an immediate uptick in site visitors and sales. Google pushes YouTube results ahead of all other competitors, so if your business or products need a boost- it's time to create original, professional content on YouTube.
The e-commerce explosion.
COVID forced even the staunchest brick and mortar businesses to move products online in 2020, and there's no slowing down now! No matter your industry, product, or service, if you want to stay competitive in future markets….an online storefront is an absolute necessity.
Hire a Web designer if….

your Website has not been updated and optimized in years. A website should be beautiful, functional, and optimized for search engines

and

mobile use. If you are new to e-commerce or you are overdue for a Website refresh, consult with a Web designer to ensure your site leaves a lasting impression.

Hire a Shopify expert if…

you have physical products ready and waiting to sell, you just have no idea how to best present and list them. Shopify experts handle all the back-end work necessary to design, optimize, and manage your online storefront. 
Remember- this is not an exhaustive list of 2021 opportunities or the roles freelancers can fill in your business. If you are ready to invest in outside help to save time, money, and your sanity – start the hiring process right now! Find your next freelancer with my hire form. On the other side of this form are so many talented, experienced, & motivated women participating in my Overwhelmed to Overbooked program! This program teaches women how to launch & grow a successful freelance business from home. They are prepared, professional, & ready to team up with someone just like you! With varying skillsets, expertise levels, & pay levels- I am confident you will find the perfect person to fill this role!