EPISODE 201 SHOW NOTES: Strategic Tips for New Freelance Business
Are you feeling stuck in the beginning stages of your freelance business? Today's episode is geared towards the strategy and step-by-step that you need to do to start your freelance business. 
Strategy doesn't have to be complicated! Check out my fail-proof plan to build your freelance business. 
1. Have a solid foundation for your business.
You need to know what service you are going to offer clients. Get that clarity off what services you are going to offer – virtual assistant, social media manager, copywriter, bookkeeper, podcast manager, online course designer, OBM, etc. 
2. Then identify who you want to work with.
As a freelancer, you have so many options! Narrow down who you want to work with and how you are able to help these people. 
3. Price your packages and secures.
Have your base packages (starting at packages) and then once you get on calls with these people, you can chat more about this with them.
4. Create a brand for your business.
This solid brand identify will help you be professional and give your clients a great first impression.
5. Connect with potential clients.
You can land these clients through direct outreach, your personal network, job boards, marketing on social media, Facebook group method.
6. Work on your online presence based on the route that you want to land clients.
You do not need a website, but you do need a solid portfolio that will WOW clients. This portfolio will cover who you are, your packages, testimonials, etc. Set up your IG profile for business or FB business page, or LI profile.
7. Seal the deal with potential clients. Have a seamless process that sets you up for success!
Get on the discovery call. If it is a fit, send a proposal. Once accepted, send the contract and invoice. Once those are signed and paid, you have officially landed a client!
In addition to these steps, you want to ensure that the legal and money side of your business is set up properly. I cover all of this (plus these steps above) in depth in the Live Free Academy! 
I know that you may feel like "well, what if I'm not successful? How do I know I will be successful?" Reach out to me! Let me know your concerns. Listen to the crash course (or read through it). Listen to as many of the success story interviews on the podcast, ask yourself, "if she can do, why can't I?"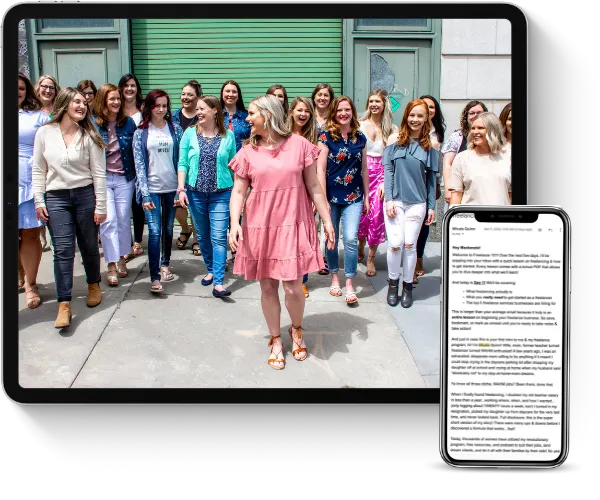 Learn how to earn $3K a month+ as a freelancer working less than 25 hours a week even if you think you have no experience.
This FREE crash course will teach you all about the freelance industry, so you can finally end the family vs. finances battle.
How can I help?
I would love to help you start your freelance business through the Live Free Academy. In addition to the course, you get a community of women who understand what you are going through and how you are feeling and are there to celebrate with you. You also get weekly coaching calls with me where you can ask me anything. I can review your progress, packages, portfolio. We have guest expert trainings and exclusive access to freelance jobs. We also have a monthly land your first or next client challenge – these challenges keep you accountable and we have found that those who are at least 75% consistent land anywhere from 1-3 clients in 30 days. 
You can sign up for the text reminders at: micalaquinn.com/text
In 2 days, the spring promotion will be going on – Wednesday April 20-Friday April 22. If you are ready to sign up today and don't want to wait the 2 days, you can sign up at go.micalaquinn.com/academy.
Please reach out to me via email [email protected] or DM me on Instagram (@micala.quinn) and let me know what's holding you back!
In this episode, we cover:
The strategy you need to begin freelancing
A peek behind the scenes of the Live Free Academy (the steps of the course).
The spring promotion for the Live Free Academy that is in just a few short days!
Resources and links mentioned in this episode:
Sign up for the text reminders to be the first to know when the spring promotion is live in just a few days!
Check out last week's episode of the series on how realistic your income goals are.
New to the idea of freelancing? Learn more HERE.
Loving the show? It would be so helpful if you could write a review HERE! Thank you!
More about the Live Free Podcast with Micala Quinn:
How do I get started? What if I fail? Who will hire me? Is it really possible to create a consistent, full-time income from home?
Welcome to the Live Free Podcast with Micala Quinn where we will be answering these questions PLUS many more! Whether you're just starting your freelance business (heck even if you don't know what freelancing is yet) or you're looking to scale, this podcast will give you tangible business advice along with inspiring interviews to help you create a life and career that works for YOU and YOUR family.
Your host, Micala Quinn, started out teaching high-school English, but when her first child was born, she immediately began searching for something more. She wanted a way to stay-at-home with her daughter (and future babies), but still needed to bring in a full-time income to help support her family. Micala started freelancing, quickly replaced her full-time income, and now helps other moms (like you) get started and grow their freelance business from scratch to 5K and beyond! She believes that being a working mom or a stay-at-home mom no longer needs to be a black and white decision. You CAN have both. On your terms!
Our motto is Mom Strong, Work Smart, and Live Free. Are you in? We'd love for you to join us each Monday, as well as in our Live Free Podcast Facebook community!
**This post about strategy may contain affiliate links, which means if you click one of our affiliate links and decide to make a purchase, we receive a tiny commission from the seller at no additional cost to you. We only share products and services we have used, tested, and love ourselves!**