Are you looking for ways to expand your budget? Maybe you need some extra spending money or vacation funds. So you are looking for a side hustle you can do from home.
No matter your reasoning, side hustle jobs can help with some extra cash flow. If you are a stay-at-home mom, it is something you can do while the kids are napping!
20 Side Hustle Jobs for Stay at Home Moms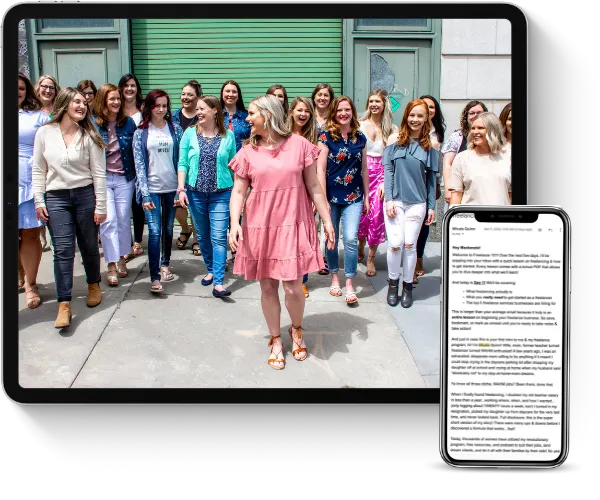 Learn how to earn $3K a month+ as a freelancer working less than 25 hours a week even if you think you have no experience.
This FREE crash course will teach you all about the freelance industry, so you can finally end the family vs. finances battle.
Here are 20 side hustle jobs you can do from home:
1. Virtual Assistant
The versatility of this role makes it the easiest one to start with no experience. Many online businesses need help with general administration and daily running of the business tasks. Things like email management or customer service. Any variety of tasks a business owner needs (or wants) to outsource, you can help with.
2. Freelance Writing & Copywriting
As a freelance writer, you can write for clients in various niches. The pay scale varies depending on your client, level of experience, and if you have a proven track record of increasing sales through your copy. Things you may write could include copy for blogs, email marketing campaigns, social media captions, websites, ebooks, educational resources, technical and white papers, etc.
3. Freelance Editing and Proofreading
Every writer needs an editor or proofreader. No matter how great the writer, we all make a mistake now and then. So, we need a proofreader to make sure the i's are dotted and t's are crossed. If you love attention to detail, and know the English language and grammar rules, then you may love offering editing and proofreading.
4. Social Media Manager
A social media manager plans and schedules content for social media. Sometimes a social media manager creates the graphics and writes captions. They can also add content to the scheduling platform. This side hustle job also consists of engaging with the client's audience, by managing their Facebook group or responding to Instagram comments. No specific training is required. However, more training and expertise will lead to more pay!
5. Blog Management
As a blog manager, you'll make sure that the content for a blog is planned and executed. While ensuring the content is in line with the goals and bigger marketing strategy for the blog. You will find new and exciting topics to create content about and do keyword research. They can also manage who creates it, and how to present it on the website to the audience.
6. Graphic Design
Graphic designers usually design logos, fliers, workbooks, and graphics for use on social media, and websites. Or anything else a company typically needs. Some graphic designers have selected a niche creating an entire brand concept and strategy. By designing logos, colors, and fonts for a company. If you combine brand and web design, you can increase your pay scale!
7. Pinterest Manager or Virtual Assistant
Pinterest managers and virtual assistants alike may create boards and pins. They actively pin to drive traffic from Pinterest to the client's website. As a manager, you will be able to show strategy and results from views to clicks to sales.
8. Bookkeeper
Do you have a background in accounting and are looking for a side hustle in your area of expertise? Then you could offer accounting and bookkeeping services. A bookkeeper keeps a record of the financial transactions of a business. They also help ensure the business is complying with state and federal laws, examine financial statements, and suggest ways the company can save money.
9. Facebook Ads Manager
A Facebook ad manager determines the client's goals and objectives for a specific advertising campaign. The ad manager will build an advertising campaign with copy, graphics, audiences, and an offer. Testing ad sets, evaluating landing pages, and optimizing the analytics is all part of the challenge to ensure the client pays the lowest possible cost per conversion.
10. SEO Specialist
SEO stands for Search Engine Optimization. You know when you search for something in Google and expect that the results are somewhat related to the word or phrase you searched? That's basically SEO. By using specific phrases, you can tell the search engines what your content is about, so it will show up on the search engine results pages. As an SEO specialist, you help to provide an optimal user experience by ensuring the page has a low loading time, uses proper headers, alt text for images, and does not have broken links, etc.
11. Online Business Manager
If you like organizing, systems, and managing others, then you might enjoy being an online business manager (OBM). OBMs work closely with the business owner to take their vision and goals for the company and create a plan to make it happen. The OBM hires, manages timelines and due dates, and organizes systems to keep the business running smoothly.
12. Digital Marketing Manager or Director
As a digital marketing manager or director, you work with clients to create marketing campaigns. You'll help create a strategy by analyzing a company's relevant data like engagement and conversion rates. To market the brand and ultimately increase conversions, customers, and revenue.
13. Web Developer
A great side hustle option if you have prior experience in web development is a web developer. A web developer navigates the backend and technical side of websites to create, update and maintain websites for businesses. It also includes performance, capacity, and other technical aspects that affect the speed and traffic of the website.
14. Website Designer
As a website designer, you build and redesign websites. A web designer is responsible for creating a design plan and layout of the website. To make it functional, easy to use, and aesthetically appealing.
15. Branding Specialist
A branding specialist manages a company's brand by creating strategies for launching and promoting products; and increasing awareness about a company.
16. Technology Support Specialist
Online companies run their business online. So, they need technical support 24/7. You will troubleshoot and problem-solve technology issues to solve connectivity, user errors, and administrative issues for your clients.
17. Customer Service Management
As a customer service manager, you will listen and respond to customers' questions. All businesses need a customer service manager to help answer questions about products, services, and the company. So many different companies need this service. Whether you are answering product questions through Instagram comments or Facebook messenger.
18. Public Relations Specialist
As a freelancer in public relations, you work to create positive public opinions about your clients by developing strategies that promote the business. You might manage social media, contact journalists to publicize news for clients, or write press releases. As a company grows, it needs more help to manage and often looks to outsource public relations.
19. Podcast Manager
Podcasts are steadily increasing in popularity and are a great way to drive traffic to your website. Podcast Managers publish episodes to hosting sites, write show notes, promote the show on social media, and facilitate the host being on guest podcasts and obtaining guests to be on the host's podcast. Podcasts are time-consuming to record, edit, publish, schedule, and create content for. So, business owners look to a podcast manager for help.
20. Virtual Practice Manager
A virtual practice manager helps manage and coordinate the backend or day-to-day activities of a private practice. Billing, clinical services, finance, calling patients, scheduling, medical records, etc. Then the practice owner can come in and see their patients. They do not worry about the administrative side of the business.
Conclusion
Now this list is not all-inclusive. If you can dream it, you can do it!
If you are looking to start a side hustle there is a freelance job for you! You have skills and experience that you can leverage to help businesses. There are tons of businesses that need general administrative help or someone with a specific skillset like accounting.
Are you looking to start a side hustle job and want to know how to get started? The first step is to determine the skills you have. Start for free by completing Your Freelance Skills Assessment today!