EPISODE 195 SHOW NOTES: A Day in the Life of a Podcast Manager
Are you wanting to niche down into podcast management? Are you trying to figure out where to find those more premium clients? Today I have Brittany Kues on the show talking all about how she got started in her freelance business almost 2 years ago. Brittany tried different routes such as social media management and Pinterest, but ultimately found her niche as a podcast manager. Brittany shares some struggles that she had in her business, including losing all of her clients within a matter of 2 months. Brittany tells us how she pushed forward, went back to the basics, and became booked out with premium clients, doubling her income! We chat about where to find those clients, raising rates, and what her life looks like now as a podcast manager!
Want to hear more Success Stories from my program, The Live Free Academy? Just click here!
Thanks for spending time with us today! Let Brittany and I know what you thought about this episode over on Instagram @Micala.Quinn and @brittany.kues. Chat with you there!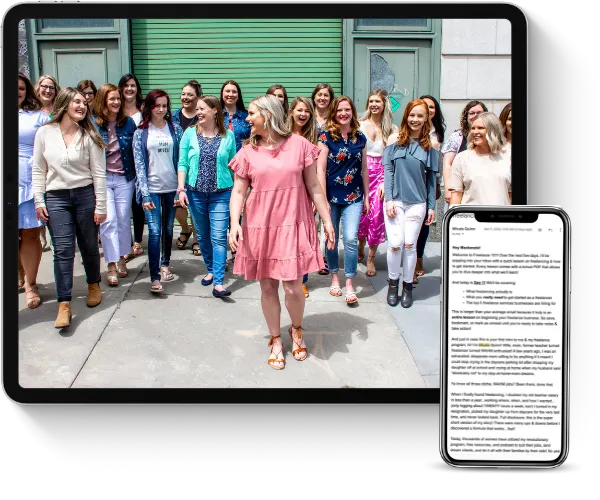 Learn how to earn $3K a month+ as a freelancer working less than 25 hours a week even if you think you have no experience.
This FREE crash course will teach you all about the freelance industry, so you can finally end the family vs. finances battle.
In this episode, we cover:
Niching down into podcast management
How Brittany lost all of her clients but pushed forward and ultimately doubled her income
Where to find premium clients
Raising your rates
What Brittany's life looks like as a podcast manager
Resources and links mentioned in this episode:
More about the Live Free Podcast with Micala Quinn:
How do I get started? What if I fail? Who will hire me? Is it really possible to create a consistent, full-time income from home?
Welcome to the Live Free Podcast with Micala Quinn where we will be answering these questions PLUS many more! Whether you're just starting your freelance business (heck even if you don't know what freelancing is yet) or you're looking to scale, this podcast will give you tangible business advice along with inspiring interviews to help you create a life and career that works for YOU and YOUR family.
Your host, Micala Quinn, started out teaching high-school English, but when her first child was born, she immediately began searching for something more. She wanted a way to stay-at-home with her daughter (and future babies), but still needed to bring in a full-time income to help support her family. Micala started freelancing, quickly replaced her full-time income, and now helps other moms (like you) get started and grow their freelance business from scratch to 5K and beyond! She believes that being a working mom or a stay-at-home mom no longer needs to be a black and white decision. You CAN have both. On your terms!
Our motto is Mom Strong, Work Smart, and Live Free. Are you in? We'd love for you to join us each Monday, as well as in our Live Free Podcast Facebook community!
**This post about a Podcast Manager may contain affiliate links, which means if you click one of our affiliate links and decide to make a purchase, we receive a tiny commission from the seller at no additional cost to you. We only share products and services we have used, tested, and love ourselves!**