Corey just recently put in her resignation as a former teacher and will not be going back to school this year! Corey was a special education teacher in the Northern suburbs of Chicago for 10 years. Loved her job, loved working in early childhood education with kids in grades K-5, and loved teaching!
What Corey didn't love was being in a stressful job, with long hours, exhausted at the end of the day, and missing out on spending time with her daughter.
So, she fast-tracked starting her freelance business, packed up her classroom, and now she works at home doing general virtual assistant tasks.
Corey is going to share with us today in her student success story how she began as a virtual assistant with no experience, her general virtual assistant tasks for each of her 7 clients, and how she fast-tracked her success!
Corey's Story
Last year, after having her firstborn daughter, they moved from the city to the suburbs to be closer to work. Corey felt that she still wasn't able to spend as much time with her daughter as she wanted, and was rushing out the door in the mornings to get to daycare and then get to work.
Corey says it wasn't easy work, it was exhausting and a high-stress job she worked all day. Then was just exhausted by the end of the day after drop-off, working all day, pick-up, dinner, and then bed.
Corey wondered what she could do with her education degree. She didn't want to go back to school or get another degree, she didn't want to start over. She had no idea that there were virtual assistant tasks she could do, or that it even existed!
Finding virtual assistance and The Live Free Academy
Then during conference time, last school year, another mom who had finished the Live Free Academy was chatting with Corey about freelancing, and introduced her to the program!
Later that week, Corey went home and Googled the course to learn more about The Live Free Academy and general virtual assistance. Then she took the Freelance Crash Course free video training for virtual assistants!
After learning more about virtual assistance and what tasks virtual assistants do, she thought,
"Maybe this could be the path for me, I don't need another degree, I don't need to go back to school."
So, she started with it on the side, signed up for the course during the Black Friday sale, and dove right in!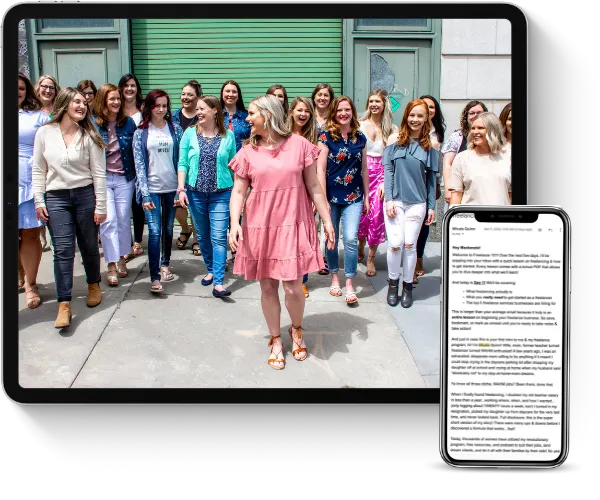 Learn how to earn $3K a month+ as a freelancer working less than 25 hours a week even if you think you have no experience.
This FREE crash course will teach you all about the freelance industry, so you can finally end the family vs. finances battle.
Fast track to success: just simply starting
Corey says she loved it! She would be looking things up on her lunch break and finished the course within a couple of weeks. Then she made her website on Canva, it was a 1-pager.
While jumping in, Corey told herself, she was just going to do it. She didn't have time to spend all this time thinking about it or nitpicking everything, she just needed to do it!
Applying for jobs
After that, she started watching the job board, just to see what different general virtual assistant tasks and jobs were out there. She always knew she was okay with social media, but it wouldn't be her big thing.
Then she found one that was starting with just a few weekend hours doing email management and customer service. So she applied. The business owner didn't respond at first, but after a while, they finally connected.
During the call, Corey remembers the potential client was saying all these different terms and platforms that Corey had no idea about. She just pretended like she knew it all, and was furiously taking notes in the background. And Googling all these terms the potential client was throwing out.
Pretending like she knew what the potential client was talking about, Corey said she was a fast learner, and figured it out as she went!
Timeline for Finding Clients
Corey enrolled in The Live Free Academy, and landed that first client in February. She says she was so worried about landing a client with no experience and nothing to put in these emails.
But as she started applying to virtual assistant jobs, she began to learn what to put (and what not to put) in the emails applying to these jobs.
Finding clients
Now Corey has 7 clients, and is making more money than she was teaching! She found clients in various places like Facebook groups, social media, and within her personal network
Posting on Facebook groups
Corey says, that after that first client, she started posting in various mom Facebook groups that have special days you can promote your small business, where she found a client.
Posting on social media
Then she also found a client from posting on her social media.
Working for her personal network
Corey was also doing some social media work for her parents' small business as well.
Working Hours
Corey says she is now working fewer hours than she was when teaching and gets to control the hours she works.
For example, during the summer, she has her daughter a couple of days a week and spends time with her. Then work during her naps.
Because she's not working in the mornings some days during summer break, she works at night instead.
A Breakdown of the General Virtual Assistant Tasks for Clients
Corey says she has a variety of clients, 7 total, and the general virtual assistant tasks she does for them vary.
Backend management of the business.
Inputs information into spreadsheets.
Manages checks and payments.
Invoicing
Ensures forms are completed.
Schedules emails
Schedules Facebook posts.
Timestamps coaching calls.
Takes notes on coaching calls and posts to the client's website.
Creates client email templates.
Email correspondence with podcast guests.
Publishing blogs to the client's website.
Email inbox organization
Google Drive organization
Her 2 biggest clients are a roofing company and a speech therapy company.
VA work for a roofing company
For the roofing company, she manages their sales team in Detroit. When a claim comes in, she inputs it into SalesForce and keeps up with the insurance companies on the backend to make sure everything is moving along. Puts checks into the spreadsheets, and ensures the sales guys are getting their commissions and paychecks.
Office manager tasks for speech therapist
For the speech therapy client, Corey does office manager tasks remotely. So, she will help with invoicing and billing for their Chicago public school division. She ensures all the therapists have filled out the forms needed, and created a whole system for this client.
Podcast virtual assistant tasks for a podcast manager
For this client, Corey schedules her emails and Facebook posts and timestamps her coaching calls. So after the coaching call, Corey will listen to it and take notes, then post it to her client's platform.
Various VA tasks for a Nutritionist
For this client, she does a variety of things, like emails and setting up Hubspot. Created client templates, and emailed them out. Corey also helps with some of the things for a launch coming up, and posts on Facebook for her. She will also use Asana to send various weekly tasks for completion.
Customer service for a nurse practitioner with a course
Corey helps with email management and customer service for this client.
Marketing-related tasks for a marketing manager
This is a new client, but when she starts Corey will be helping with the client's podcast and blog posts. She will be emailing guests who came on the podcast with a 'thank you' email and include the link to the podcast show. Corey will also be helping with getting blog posts up that the client is behind on.
Organizational tasks for a senior caregiver
This new client has over 600 emails in her inbox that Corey will help clean up. She will also help organize this client's Google Drive.
Future Plans for Her Business
Corey says she is excited to not be doing the back-to-school stuff this year, and has some trips planned that are not planned around the school year!
Her next steps are going to be transitioning from general virtual assistant tasks to business management, director of operations, or something along those lines. She just needs to figure out what path and course she wants to take.
How to Fast-Track Your Journey to Becoming a Virtual Assistant
I want to help support your vision of living your life with the freedom and flexibility you have been dreaming about!
I know how overwhelming it can be to start your business, and that's why I created my course The Live Free Academy! When you sign up with the course you get a fast track to building your business on a solid foundation working on general virtual assistant tasks for clients.
The course includes tools, templates, skills training, monthly challenges, coaching calls, and the best community of Freelancers out there! You will get everything you need to fast-track your business and land your first client fast! Learn more about the program and sign up here!