The field of nursing is experiencing growth, which means new opportunities in alternative careers for many registered nurses. New jobs are opening up and developing more and more. The U.S. Bureau of Labor Statistics projects the employment of registered nurses to grow by 9% by 2030. The pandemic and technology make more work-from-home jobs available for registered nurses to find alternative careers.
10 Best Alternative Careers for Registered Nurses
Here are 10 of the best alternative careers for registered nurses: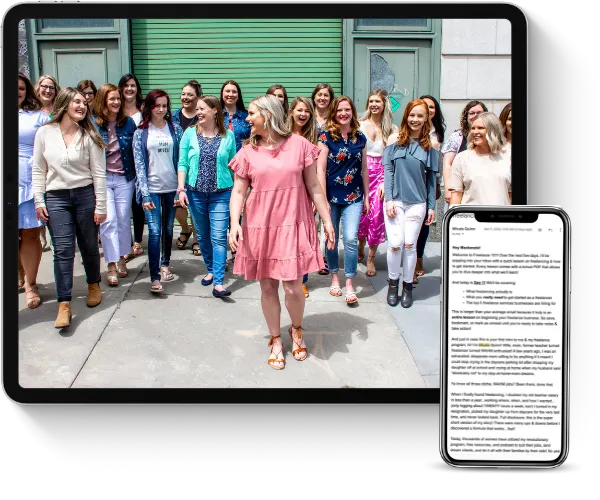 Learn how to earn $3K a month+ as a freelancer working less than 25 hours a week even if you think you have no experience.
This FREE crash course will teach you all about the freelance industry, so you can finally end the family vs. finances battle.
1. Freelance Nurse Writer
If you have a nursing degree or know the field well, and you are creative you might enjoy freelance writing. Many businesses need to create content for their website and are eager to find knowledgeable nurse writers to help write content.
As a freelance nurse writer you could:
Write content for websites and blogs
Creating articles for magazines related to the nursing field
Write email marketing and sales messages
Craft social media captions and related content
2. Online Nursing Educator
As an online nursing educator, you are educating the next generation of nurses to prepare them to enter the field of nursing, maintain clinical standards, compile grant proposals, perform research, and evaluate and write curriculums. You might prepare and manage the information taught in a diploma, Associate's degree, Bachelor's degree program, continuing education, or refresher courses.
3. Research Nurse
A research nurse conducts scientific research on illnesses, treatment plans, pharmaceuticals, and healthcare methods. They work to improve healthcare services and patient outcomes by designing studies, analyzing data, and reporting findings.
Research nursing is a great alternative when looking to work from home because they create studies and analyze the results. A majority of this job is done on a computer from anywhere.
4. Virtual Practice Manager
A virtual practice manager helps manage and coordinate backend or day-to-day activities of private practices. It includes billing, clinical services, finance, calling patients, scheduling, medical records, and all of the other administrative parts of running a business.
Do you have a medical background and want to learn more about becoming a virtual practice manager? Listen to the Live Free Podcast Episode 196. The success story about a Live Free Academy student who started her own Virtual Practice Management business; discusses her trouble getting started. And how she overcame it to now have to turn away new clients!
5. Health Coach
Similar to business coaches, a health coach helps patients achieve specific goals. The difference is that a health coach will focus on identifying health-related challenges. They will create a plan to help the client make the changes the client seeks. And teach patients or clients how to live healthier lifestyles.
Occasionally, that means advocating on behalf of their client by speaking with doctors on the clients' behalf or negotiating with insurance companies.
6. Telephone Triage Nurse or Telehealth Nurse
Help patients determine the care they need by assessing the patient over the phone, gathering basic personal information and symptoms, then discussing options for care. Such as whether a visit or the emergency room or urgent care is needed. They help with scheduling appointments with the doctor or physician as needed.
7. Medical Biller or Coder
Medical coders key in information for invoices and billing, communicate with insurance providers, and collect payments. A medical background is necessary to translate information into a language that can be understood by both medical and insurance providers. Sometimes certification is necessary for this one, too!
8. Virtual Clinical Trial Manager
Responsible for the day-to-day management of clinical trials by planning, organizing, and executing strategies to conduct a clinical trial. And analyzes the results of the clinical trial. The virtual clinical trial manager will recruit team members, train, and supervise.
9. Medical Transcriptionist
Documents a patient visit by listening to a voice recording of a physician visit, then transcribing it into a report. They can review and edit transcribed reports before it becomes a medical record. These reports are used by doctors when deciding on a course of action for future care.
Transcribing can consist of proofreading and editing reports and requires a high level of detail. It also requires knowledge of medical terminology and anatomy to understand what is discussed to transcribe it accurately.
10. Life-Care Planner
A case management nurse creates long-term care plans for patients. Usually, these patients suffer from serious or life-altering injuries or chronic illnesses, which need ongoing care and plan assessment for managing their medical conditions. A case management nurse works with doctors and patients to assess medical care needs.
Conclusion
If you are searching for an alternative job to nursing that you can do remotely, there are tons of options out there! These jobs offer flexibility in income and hours, which allows you to advance your current skill set.
Want to learn more about starting a freelance business doing one of these options above? With the Live Free Academy, you learn where to find clients and how to create the messaging you need to attract the clients you want to work with!